This post was first published on the Huffington Post UK on 3rd November 2014
In the last few weeks there have been significant developments in press regulation that have gone entirely unreported, despite the fact that they involve the most senior figures in the news industry, and despite that fact that they increase the dependence of the industry's new self-regulatory body, IPSO, on the major publishers.
The Chief Executive of the Telegraph Group, Murdoch MacLennan, has been made the ninth and final member of the Board of IPSO's funding body. Paul Dacre, Editor-in-Chief of the Daily Mail, has been made the Chair of the Editors' Code of Practice Committee – and other industry committee members have been made public. David Newell has been made Secretary of the funding body and, a new, more powerful news industry lobbying group is being established called the News Media Association.
Telegraph Chief Executive to be ninth member of the RFC Board
A ninth – and final – Director has been appointed to the Board of IPSO's funding body, the Regulatory Funding Company (RFC). The RFC not only controls IPSO's funding, but has a veto over key decisions like changes to the Code of Practice, the establishment of an arbitration service, and any changes to the IPSO regulations themselves.
When the first eight members of the RFC were announced it was considered newsworthy that there were no representatives from the Telegraph Media Group or the Mail Group – two of the UK's most powerful publishing groups, and most prominent critics of Leveson. News Corp's News UK was represented (by its Chief Financial Officer), as was Northern and Shell (by its Group Editorial Director) and Trinity Mirror (by its Group Legal Director), but not the Telegraph or Mail (the lack of representation of working journalists, women, or anyone who was not a senior executive in a news publisher was not mentioned in the coverage).
The Telegraph's absence has now been rectified. The ninth member of the RFC Board is the Chief Executive of the Telegraph Media Group, Murdoch MacLennan. McLennan is the most senior executive figure at the Telegraph and appeared in the Media Guardian 100 in 2011, 2012, and 2013 (#29 in 2013). Prior to working at the Telegraph Group he was a senior executive at Associated Newspapers, and has been on the Board of the Newspaper Publishers' Association for the past 16 years. The appointment was not considered newsworthy in either the national press or the industry's own publications. Nor was it announced by the Regulatory Funding Company.
Paul Dacre to be Chair of the new Editor's Code of Practice Committee
The Mail, though absent from the RFC Board, now appears to be well represented elsewhere across the IPSO system.
The new Editors' Code of Practice Committee has now been established, again with no public announcement. The Chair of this Committee is Paul Dacre, Editor-in-Chief of the Daily Mail. Dacre was also Chair of the previous Editors' Code Committee during the PCC era (taking over from News International's Les Hinton in 2008), he was a PCC Commissioner from 1998, and has been a Director of the Press Standards Board of Finance since 2004. Also on the new Code Committee is Geordie Greig, Editor of the Mail on Sunday. Peter Wright, the Editor Emeritus at Associated Newspapers has recently been appointed to IPSO's Complaints Committee.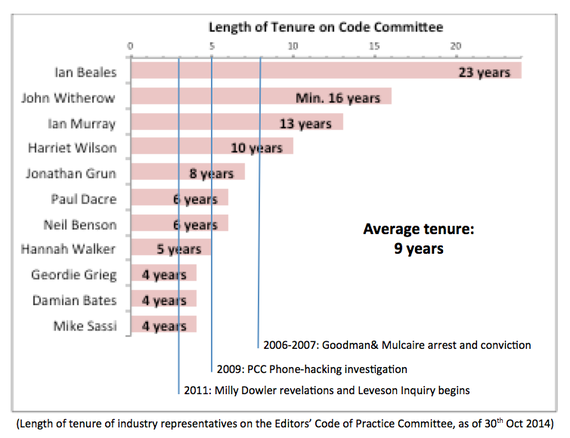 Based on its membership this new Editors' Code of Practice Committee is not new. Every industry member was on the previous Committee, with an average tenure of almost a decade. Altogether they represent a hundred years of service on the Code Committee since it was created in 1991.
David Newell made Secretary of the Regulatory Funding Company
As this analysis shows, the Regulatory Funding Company has substantial control over IPSO, as the Press Standards Board of Finance (PressBoF) did over the PCC.
The RFC Secretary has a critical position at the funding company. As the company's Articles of Association show, the Secretary has discretion over the subscription each member pays to the RFC, and, through this, discretion over the numbers of votes eligible to be cast by publishers:
6.1.2 The numbers of votes eligible to be cast by a Regulated Entity in its Sector or Sectors and the number of votes cast by a Regulated Entity will be determined by the Secretary as defined in the Articles of Association of the Regulatory Funding Company (IPSO Scheme Membership Agreement)

24.6 Each member shall promptly supply to the Secretary such information as he or she may reasonably require in order that he or she may determine the amount of the member's subscription in accordance with the methodology applicable to the Sector or Sectors to which the member is designated.

24.7 The Secretary's determination shall be final and binding and each member shall pay its subscription to the Secretary within 30 days of being notified of the amount by the Secretary.

24.9 Subject to Article 24.10 the Secretary shall keep confidential and not disclose to any person, including the directors, any information provided to him or her in accordance with Article 24.7 nor the amount of any member's subscription (Regulatory Funding Company Articles of Association)
David Newell has been made RFC Secretary. This information is not available on the RFC's website but can be obtained via Companies House documents. The appointment was first referenced in these documents in July 2014.
David Newell previously occupied the position of Secretary at PressBoF, as well as his Directorship of the Newspaper Society (the representative body of the local and regional press) while being Secretary of the Newspaper Publishers' Association, which represents the national press. He has been affiliated with the Press Standards Board of Finance since 1990, when it was created.
A new, more powerful industry lobbying group
A further development was revealed by Paul Dacre in a speech at the Ritz on Tuesday 28th November. There is to be a new newspaper industry lobbying group that will amalgamate the existing representative bodies in order to lobby more effectively on issues of public policy that affect the industry. To quote Mr Dacre in full (as this represents the only public statement on the matter):
…there is about to be a sea-change in the way the industry's organisations are constituted. In the next few weeks, the merger – about time, too – of the national press and the regional press into one new representative body, the News Media Association, gives us far more clout that we have ever had before to oppose those things that undermine us and fight for the changes we need
There is no information available publicly on this group, its members, or its aims. It is not clear the extent to which the local and regional press will lose their distinctive voice in this merger.
One of the causes of public outrage in 2011 and catalyst for a public inquiry was concern about the power media organisations, and the news industry as a whole, held over the democratic process. It would now appear that a new, more powerful industry body is to be established with the express aim of lobbying and direct intervention in the democratic process.
Structural limitations on the freedom of the Chair of IPSO
These developments add to the structural limitations on IPSO's independence already cited in our detailed assessment.
Within this context it is hard to see how Sir Alan Moses can act independently, regardless of his stated intentions to secure reforms to make IPSO more independent.
IPSO's money is controlled by the most senior figures in news publishing (including the money available to fund investigations). IPSO's rules prevent it from acting effectively on behalf of the public – and cannot be changed without consent from the largest publishing groups. IPSOs investigations are hemmed in by regulations that will make successful investigations and fines almost impossible. IPSO cannot establish an arbitration service without the consent of the RFC.
These appointments, and the manner in which they were made, reinforce the impression that the major publishers intend to recreate the previous, discredited, system of press self-regulation with the same figures in control. It repeats what Lord Justice Leveson called, 'the pattern of cosmetic reform' that has characterized the previous seven decades of press self-regulation.
It is difficult to see how IPSO can hope to gain public confidence when the news publishers that established it act in this way.
This post was written with Dr Gordon Ramsay
This post was first published on the LSE Media Policy Project blog on 9th October 2014
You'll remember the scene from It's a Wonderful Life: the angel Clarence shows George Bailey what Bedford Falls would look like if he had never existed. Mr Potter owns virtually everything in the town. There are pawnshops, night clubs and neon bars all down the high street. Nothing functions in the re-named 'Pottersville' without Mr Potter taking a cut.
In five years' time, a new media giant such as Google or Facebook could have a similar stranglehold on our local media.
Our local print press continues to decline. In the first half of 2014 alone, local newspaper circulation dropped by an average of 13.5 per cent year-on-year. Since 2000, regional newspaper paid circulation has more than halved.
Hyperlocal websites are starting to fill the democratic gap, but slowly and intermittently. There are fewer than fifteen hyperlocal sites in Northern Ireland and fewer than thirty in Wales and Scotland (Ofcom, 2013). Less than a third of hyperlocal sites make enough money even to cover even basic costs (Barnett/Townend 2014).
Open data has yet to animate an army of armchair auditors, as the Coalition government hoped it would. 'Simply putting data "out there"', the Public Administration Committee said in 2014, 'is not enough to keep Government accountable' (PAC, Tenth Report).
Civic technology has not taken off in the UK as it has in the US
We do not yet have an equivalent to Nextdoor.com – the private residents' social network, or neighbor.ly – the crowdfunding site for local civic projects, or openplans.org – digital tools to involve people more closely in planning decisions.
The amount invested in local news and civic technology in the US – for profit and non-profit – dwarfs that invested in the UK. The Knight Foundation alone has put over $235 million into journalism and media innovation in the last eight years. MacArthur, Rockefeller, Open Society, Ford and other foundations have also supported innovation in this area. Private investors have invested more still, particularly in civic technology. Between 2011 and 2013, private funders put $364 million into civic technology in the US (Knight Foundation, 2013).
In contrast, our local civic innovators and entrepreneurs are starved of support. NESTA, Technology Strategy Board and Carnegie are almost the only non-commercial funders supporting innovation in local news and information.
The consequences are becoming clear. Local news and information providers are increasingly unable to perform the role expected of the Fourth Estate. Local businesses and services are ever more reliant on non-UK technology platforms. We urgently need to alter our trajectory. We need to move from deterioration and dependence to innovation and growth.
Spurring innovation
The best way to change this is through a local news competition. A competition in which individuals and organisations would compete for awards of between £10,000 and £50,000 to start, grow and run the local news and civic technology of the future.
Similar competitions already exist in the US – like the Knight News Challenge. Over the first five years of the Challenge, Knight gave awards to 79 news innovation projects – a total of $26.5 million.
A UK version of such a competition could see a transformation of local news. Ten million pounds a year for five years would lead to over 2,000 award winners: 2,000 local news and civic technology projects around the UK. It would be a bottom up revolution in local news, driven by people in the local areas themselves. Compare this to the 30 licenses granted to organisations to provide local broadcast TV services.
Neither does such a competition need to be supported through existing public funds. The French government set up a €60 million news transition fund paid for by Google (following a dispute about whether Google should pay to display news content in its search results). Eric Schmidt has since said he is happy to discuss a similar arrangement in the UK. Alternatively, there could be a more realistic charge for the collection and commercial re-use of personal data.
Such a competition could create a flowering of innovation and information about local communities. It could energise civic participation and democratic engagement. It could leave a legacy of enterprise, experience and invention that would put the UK at the forefront of digital information development.
The alternative? We could watch as new media giants – most US-based – colonise our local areas, providing digital platforms for everything from the council to the police to local business. These digital giants would necessarily levy a charge or subsidise their services through local advertising.
As with Mr Potter's Bedford Falls – or rather Pottersville – nothing will function in Bedford, Bedfordshire, without Google or Facebook taking a cut.
The full report on which this post is based – 'Addressing the Democratic Deficit in Local News through Positive Plurality' – was published by the Media Standards Trust on 9 October 2014. 
This post was first published at the Huffington Post UK on 8th September 2014
As IPSO – the press' response to Leveson – opened for business this week, newspapers may be wondering whether they will be able to convince the public that it is not just a replica of its discredited predecessor, the Press Complaints Commission.
No doubt IPSO will receive praise from newspapers themselves – at least initially. But will this be enough to paper over its shortcomings? And will it be enough to distract the public from how far the self-regulator is from what Leveson recommended, and from what Parliament agreed.
Based on the public's response to the coverage of the Leveson Report and its implementation by the national press, the answer is no. It is highly unlikely that positive newspaper coverage will ever convince the public that IPSO is independent or effective.
In the twelve months after Leveson published his recommendations, from November 2012 to November 2013, the national press – with the notable exceptions of The Guardian, The Independent and the FT – went for Leveson's report and the subsequent settlement by Royal Charter with undisguised and undiluted rage.
The rage did not come in intermittent shouts, but as one persistent scream. 2,047 articles published over twelve months. That equates to an average of six articles in the national press each day on press regulation, every day for a year. The subject was covered far more than it was during the Inquiry itself (when there was, arguably, 'news' coming out of the Royal Courts of Justice every day).
Nor were these articles neutral news reports. Over two-thirds of the two thousand articles expressed a view about Leveson or its aftermath. Most of these views were negative. Seven out of ten leader columns about press regulation after Leveson – out of 217 published – were wholly negative. In other words, they did not have a single positive thing to say about Leveson or the post-Leveson settlement.
Headlines of the leader articles will give you a pretty good impression: 'Shadow of fear over public's right to know', 'Lords-a-leaping to gag the press', 'Statutes against liberty', 'Defy the zealots and defend liberty', 'Don't give up on press freedom now', 'A muzzled media will make victims of us all', 'Press freedom – no longer made in Britain', 'Charging headlong to a secret state'. And so on and on.
The negative coverage was not restricted to opinion and leader columns either. The majority of news reports expressed a view too. In many cases this view was not a quote from a news source but just stated within the article, as though it were an accepted fact. For example, under the headline 'Papering over the cracks', the Daily Mirror reported that "Lord Leveson [sic] sparked fears for the future of investigative journalism yesterday by proposing draconian curbs on reporters" (30th November, 2012).
Simultaneously, newspapers praised their own efforts to create an industry Royal Charter and to set-up their own Independent Press Standards Organisation (IPSO). Of 19 leader columns in the national press about the industry Royal Charter, all 19 were wholly positive. Of eight leader columns in the national press about IPSO during this period, all eight were wholly positive. North Korean leaders could hardly hope for a better press.
Perhaps, you might argue, this was because there was not a diversity of views out there. Yet there was. The leading Leveson recommendations were supported by all parties in Parliament, by the victims of press abuse, by many civil society groups and – most importantly – by the public (based on four polls conducted in the weeks surrounding the publication of the judge's report, one commissioned by The Sunday Times). Support persisted amongst all these groups for the Royal Charter agreement reached in March 2013.
Or perhaps you might argue that the newspapers were simply reflecting a hardening of the public's views following the Inquiry, and growing fears amongst the public about the potential threat of the recommendations to press freedom.
But again, this is not borne out by the evidence. 24 opinion polls were commissioned between May 2012 and June 2014 that covered aspects of press regulation. Even taking into account the use of trigger words in questions ('MPs', 'politicians', 'independent') the view of the majority of the public is not hard to discern from these.
According to almost all these polls the British public want tough press regulation. We are comfortable with press regulation being supported through legislation. We do not see this is a threat to press freedom. We are distrustful of politicians. We are even more distrustful of newspapers.
These views hardly changed over the course of the year following Leveson's report, despite the cavalcade of abuse hurled at the judge's recommendations and at the Royal Charter in much of the national press.
One has to conclude, therefore, that when it came to press regulation most national newspapers were not interested in representing the views of the public. Nor were they concerned to balance their own views with the views of those who disagreed with them. They preferred to publish articles that conformed to their own viewpoint and to suppress or ignore those of others. Their own viewpoint, consistent with their own self-interest, was to denigrate Leveson's report and its implementation.
And yet, despite this outpouring of rage and negativity by most of the national press, public opinion remained consistently in favour of a Leveson system and consistently against the industry alternatives.
The lesson from the past couple of years is that paeans of praise from newspapers for IPSO will have little impact on the public's confidence in it. Without public confidence no regulator can hope to survive for long.
The figures in this piece come from a new report published by the Media Standards Trust – 'How newspapers covered press regulation after Leveson' by Dr Gordon Neil Ramsay which can be read here. The full dataset is available here.
This post was first published at the Huffington Post UK on 1st July 2014
What do these three things have in common? Over the course of a week in January 2012 Facebook deliberately manipulated the news feed of almost 700,000 users in order to compare the effects of positive and negative news. In June 2014 Instagram disabled the account of Courtney Adamo after she posted an innocent photograph of her eighteen-month old daughter showing her bellybutton, saying it violated their rules. Research by Psychologist Robert Epstein released in May claimed that Google could, simply by adjusting its search algorithms, influence the outcome of an election by an average of over 12% – easily enough to swing the vote in marginal contests.
All three are within the power and scope of Facebook and Google (Facebook owns Instagram). All three caused public consternation and, in the case of the first two, a popular backlash (it should be emphasized that the third was conceptual rather than actual – the researchers were testing a theory).
When Facebook, Google and other new media behemoths do something that causes public angst or anger they generally apologise and often shift their position.
But they are under no obligation to change their behaviour. These new media behemoths are public companies. As such they are run as autocracies not as democracies. They may perform a positive public role, but only insofar as it suits their aims and continues to support their business model.
As Rebecca MacKinnon wrote of the two big social networks in Consent of the Networked: 'both Google Plus and Facebook share a Hobbesian approach to governance in which people agree to relinquish a certain amount of freedom to a benevolent sovereign who in turn provides security and other services'.
We know this but often appear to be in denial about it. Yet as we come to rely on these behemoths more and more, we need to remind ourselves that a benevolent sovereign is still a sovereign, and may not always act benevolently.
We need to be especially conscious when it comes to our reliance on these digital sovereigns to perform a civic function. According to the 2014 Reuters Institute Digital News Report Facebook is 'by far the most important network for news everywhere'. Google, Bing and Yahoo together account for between a third and a half of people's pathway to news. News is broken on twitter rather than mainstream media.
We may rely on these digital sovereigns, but we have little control over how they perform this civic function, how they choose to evolve it, or when they stop providing it. Google just announced it would be stopping Orkut, one of its social networking platform on September 30th.
In the same way these organisations can choose what content their users are allowed to publish. Breastfeeding photographs fell foul of Facebook's rules and were removed (the ban was quietly dropped last month). Beheadings were initially allowed, then banned, then allowed again on Facebook. They are now allowed as long as they are posted in 'the right context' (hard to imagine what the 'right context' is for a beheading).
Local campaigns, that may previously have been led by a local newspaper, are often now organized through Facebook. Whether they are to save a library, to stop a bypass, or find a missing person, these are, by most people's definition, civic campaigns. Facebook is not obliged to enable people to run these campaigns, and is within its terms of use to censor them – algorithmically or manually.
We should not fool ourselves into believing that algorithms are somehow neutral. Algorithms are like recipes. If you change an ingredient in the recipe, you change the dish. Tweak an algorithm and suddenly, invisibly, the results you receive will change (for good examples see The Filter Bubble).
Algorithms can be as influential in defining an editorial agenda as a newspaper editor. In its experiment Facebook chose to adjust its algorithm to censor specific news updates on the basis of key words. How is this different from a newspaper editor deciding not to publish a news story because of the effect it may have on the reader? Or the advertiser? The chief difference is that people know news stories are chosen subjectively. Many believe that algorithmic results are objective.
This may account for why lots of people appeared to be shocked by Facebook's psychological research experiment in which its users were the guinea pigs. But this was not the first experiment nor will it be the last.
But whereas one can debate with an editor, or question editorial decisions, it is very hard to see how one can do the same to an algorithm. Especially since these algorithms are closely guarded secrets, the equivalent of the Coke formula.
Revelations about Facebook experiments are waking us up to the fact that these services are not neutral, neither are they simply there for the public good. Yet they are now an integral part of our lives – not just our social but our civic lives too. Our influence over what they do, however, or over what services they provide, or how they use our personal information, is tiny. If you think firing a peashooter at an elephant is ineffectual, try firing emails at Facebook HQ in Menlo Park California.